If you've ever been within earshot of anybody trying on a wedding dress, you've probably heard someone being told they look like a princess. It's become something of a cliche when it comes to celebrations of love, but do any weddings live up to this royal reputation? Of course they do! Cuisine on Cue has curated the menu at more than their fair share, but this real wedding is one of our favourites!
Josie and Luke recently wrote their own chapter in the anthology of fairytales that the Old Museum in Brisbane's Bowen Hills has been delivering for over 130 years. From stunning floral arrangements to an immaculate sit-down dinner. Read below more of the love-story worthy of any royal court.
The Ceremony
When deciding on a ceremony space, the Old Museum offers couples some gorgeous outdoor, garden spaces. Though Josie and Luke opted to say their vows on the airy Balcony. Decorating the timeless, subtle red-brick and pristine stone flooring with gorgeous, eclectic floral arrangements with the help of Aurora floral studio. 
This focussed floral motif complimented the impossible not to love simplicity of Josie's gown from Lola Varma. Famous for their minimalist designs. 
The ceremony featured fewer than 50 guests, who were able to embrace the full effect of the moment as the couple said I do, in a wonderfully intimate, personal setting. Married by Lara Wilkinson, a celebrant who brings a unique warmth and attentiveness to ceremonies. An atmosphere this exceptional ceremony demanded.
The floral arrangements added beautiful vibrance that brought the ceremony photgraphy to life, while Daniel Ford provided perfect, subtle musical accompaniment to the proceeding. Check out our Instagram to see the full team of suppliers and partners.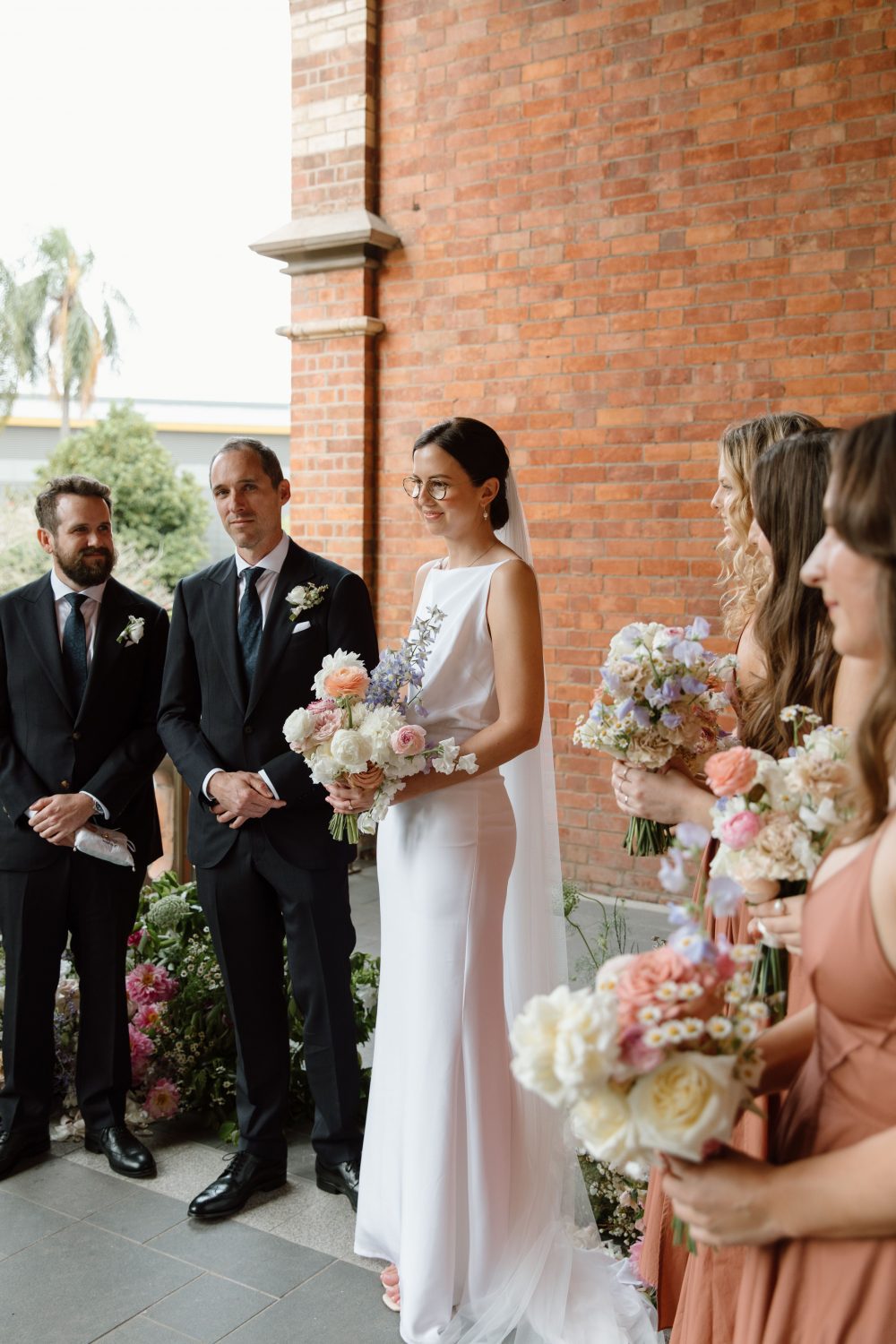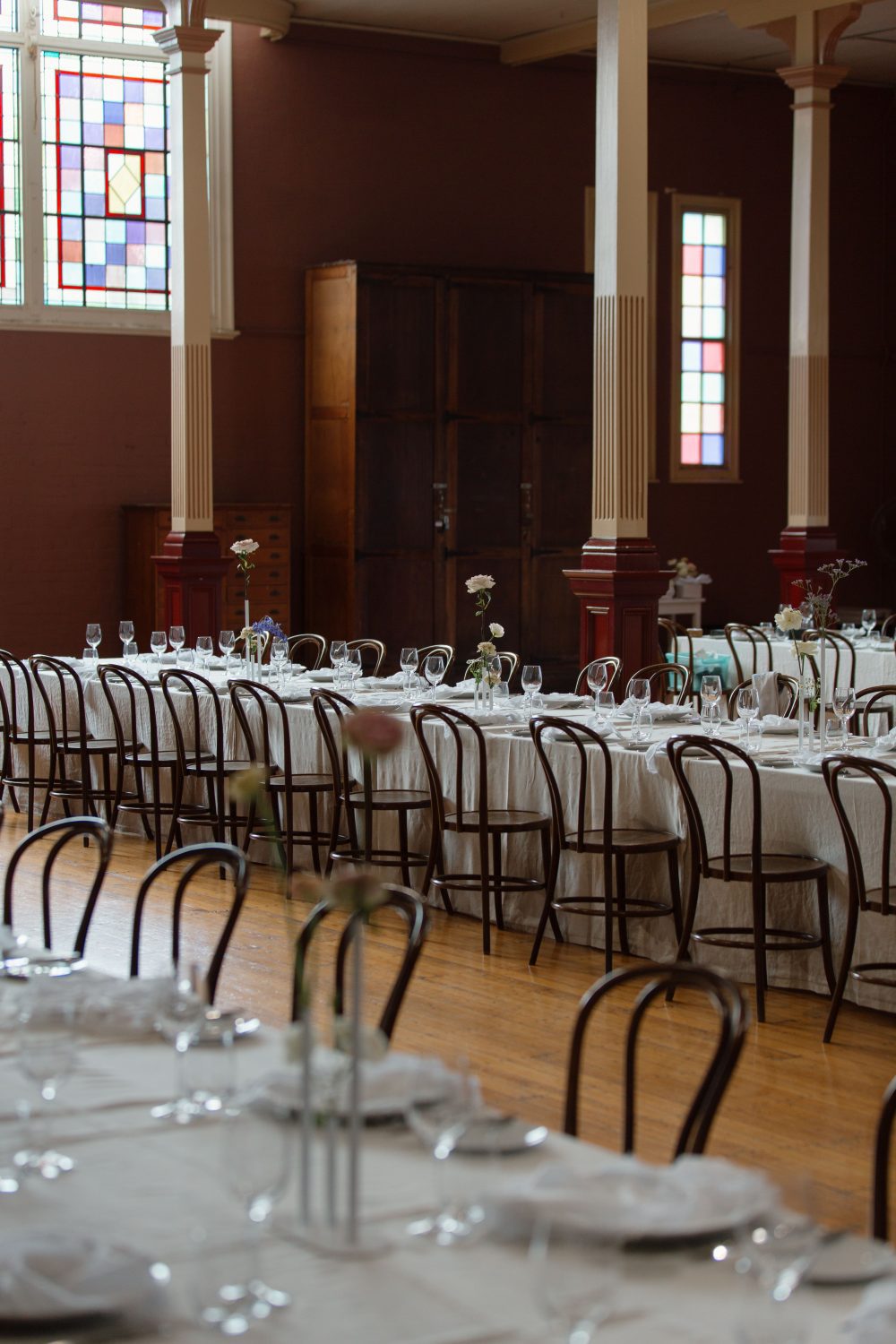 The Reception
After such an immaculate, flawless ceremony it's hard to picture how a reception could preserve this chique subtelty without becoming dull. However, in typical Old Museum style, this histoirc venue, styled by an all-star Brisbane team. Including For Love and Living wedding planners, Avideas and Hampton event hires and beautiful floral additions from Aurora.
DJ Aaron Maybus provided music for the bulk of the evening, completing the vibe perfectly. The final element that raised this classic style reception to rival the ceremony it followed? The Food.
Cuisine on Cue's menu, meticulously chosen through a collaboration between the happy couple Josie and Luke, and the world class chefs at Cuisine on Cue. This attention to detail resulted in dazzling, on theme fare. Featuring scorched salmon, beef teres, truffle artichokes and raspberry mousse. The carefully prepared menu delighted guests and elevated a reception full of pristine charm, to a grand affair. One that guests will remember a long time.
Happily Ever After…
By dedicating themselves to a cleancut aesthetic, that blended perfectly with their venue, Josie and Luke made their wedding day a timeless dream. A day that they and their guests will look back on in many years and think of only brilliant, bright and beautiful memories.
The Old Museum proved that with taste, elegance and the right people behind you, you don't need to be adorned in gold or awash with diamonds to have a sophisticated wedding. With the culinary savoir-faire of Cuisine on Cue and their venue partner the Old Museum, Josie and Luke created a day that rivals any monarch's matrimony in sophistication and timeless beauty.
It is always an honour for Cuisine on Cue to be a part of creating such amazing memories. Our understanding of the power of food to bring people together, and our willingness to work with our clients to create anything from fun filled party food to a gourmet fine dining experience, mean events like Josie and Luke's wedding go from a dream, to a dream come true.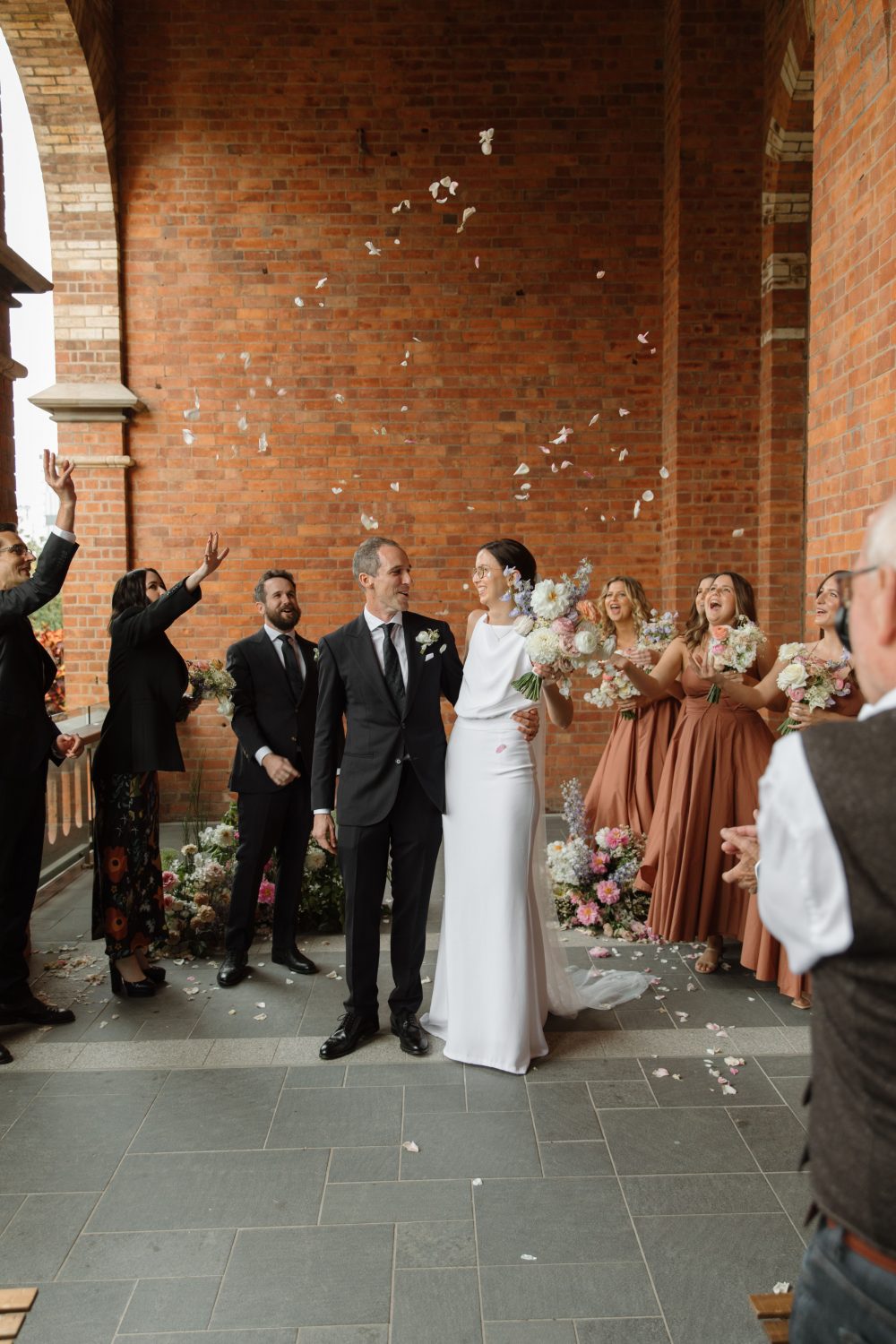 If you're looking at tying the knot, or just celebrating a milestone, be sure to give us a call. Our exclusive venue partners, like the Old Museum, are second to none. While our bespoke catering options can create any experience you could want. Browse all of our menus for the biggest days of your life. You can also explore where to host your event and see our list of venue partners here.