Bianca and Tom's Skyline Wedding
Bianca and Tom's charming, country style wedding was held at the stunning Skyline Farmhouse. The picturesque Scenic Rim venue hosted the ceremony and the reception. The celebration made an early afternoon start, and continued late into the evening.
Suppliers
Florist: –
Celebrant: –
Photographer: –
DJ: –
hire: –
Cake: –
Styling: –
The Ceremony
The sun smiled on the ceremony, held outdoors and backed by the hundreds of acres of Skyline's stunning vistas.
Cuisine on Cue's staff had already set the scene and greeted guests as they arrived. Welcoming the coulple's friends and family with trays of champagne and the evening's selection of beverages. This classic style was brought to the outdoors and continued through the ceremony. Blooms of subtle floral arrangements accented the spectacular views. Then, before the sun had started to dip below the horizon, Bianca and Tom were married. The ceremony was heart-warming, light and understated. This wedding didn't schedule a lot of waiting and the guests were enjoying drinks and their first sample of the cuisine shortly after the ceremony. Featuring hot bites, including specialty samosa's and house made sweet chilli sauce.
Check out our Instagram to see more from premier Brisbane Wedding Catering specialists Cusine on Cue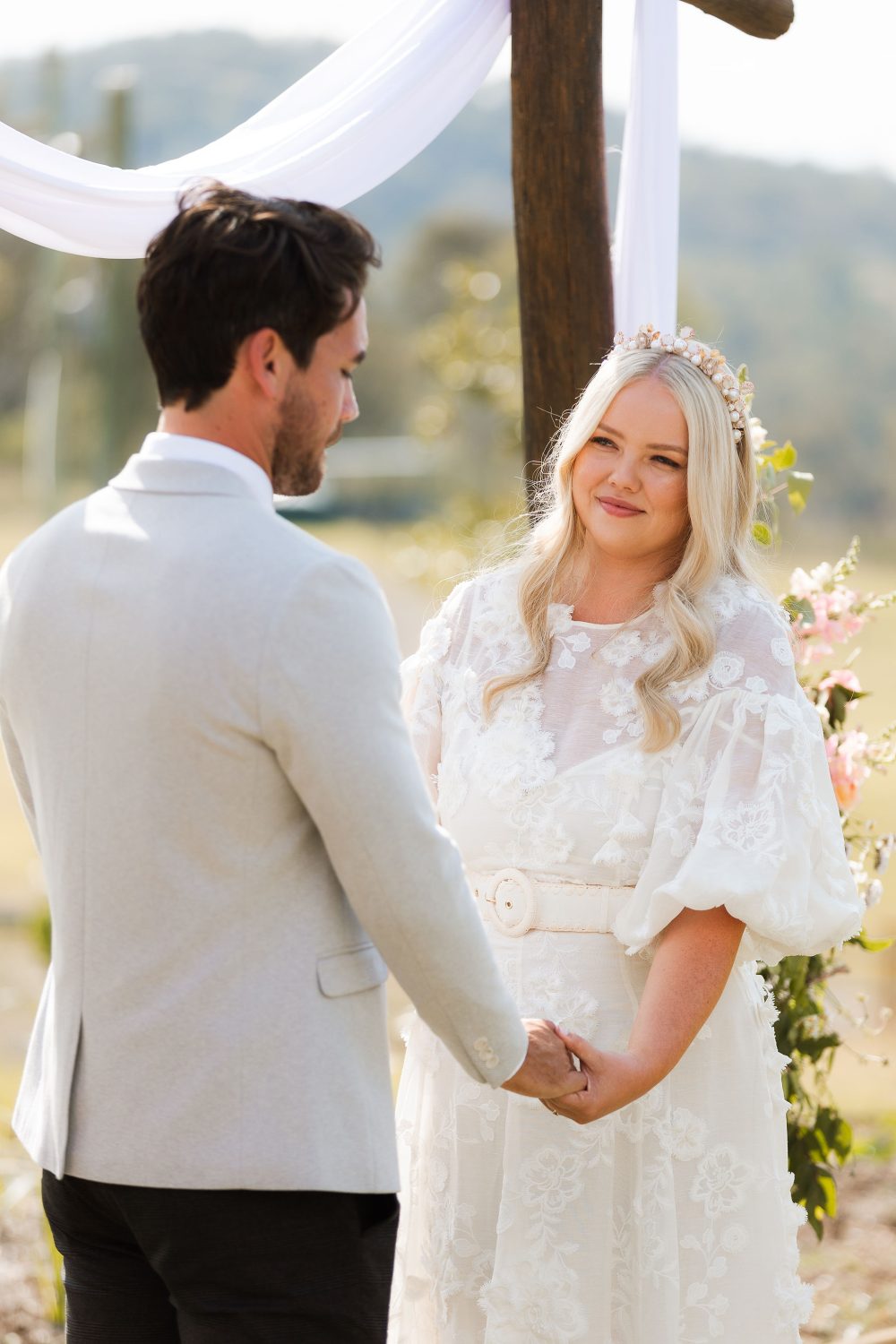 The Reception
Guests didn't have to travel far to start enjoying the elegant charm Skyline Farmhouse offers as the reception spaces were just steps away from where the couple was married.
Many venues would struggle to bring the elegance, comfort and sophistication that defined Bianca and Tom's first moments as a married couple, to an outdoor setting. However, with the experience and dedication from Cuisine on Cue, as well as Skyline's unimpeachable charm, the guests at the Farmhouse were able to enjoy the pristine weather, and everything a classic, up-scale wedding has to offer.
The couple opted for a fun, close-knit atmosphere with a shared dining menu, served by expert staff. Complimented by a diverse cocktail selection, also mixed by Cuisine on Cue's wonderful bar-tenders. Which featured classics like mojitos, and a new Cuisine on Cue favourite: the Aperol Spritz.
A sky-high menu…
Cuisine on Cue's culinary  team worked to create a menu with rustic charm and Farmhouse favourites to do the beautiful Skyline justice. Served to guests as the sun set, Tom and Bianca's first meal as a married couple. 
Mains included 18 hour beef brisket, Swiss mushrooms, parsnip whip and truffle jus and braised pork belly and caramelised baby pear with sticky chilli. While vegetarians were catered for with Roasted sweet potato, haloumi, cranberry and mustard dressing. Along with healthy serves of chickpea salad and kipfler potatoes. 
Before the evening moved in to dancing and generous serves of beverage, dessert was served. With platters of Hazelnut churro with frangelico chocolate dip, Baileys chocolate cream, with walnut crunch and a Key lime curd, scorched meringue tartlet.
Want to learn more about these dishes or plan a menu of your own?
If you're looking at tying the knot, or just celebrating a milestone, be sure to give us a call. We work with an amazing array of venues, like Skyline Farmhouse. While our bespoke catering options can create any experience you could want. Browse all of our catering menus for the biggest days of your life. Famous in catering in Brisbane and beyond, Cuisine on Cue needs to be at the top of your list of caterers for your wedding day. You can also explore where to host your event and see our list of venue partners here.
– See more from Skyline Farmhouse –