The Top Wedding Trends For 2020
Planning to tie the knot this year? We've rounded up the top wedding trends for 2020 to help you organise your dream wedding ceremony and celebration.
Modern Brides
Your wedding day should be completely yours, down to your outfit! Forego the white dress for a chic jumpsuit or trousers if you'll be more comfortable, or maybe ditch the heels for some crisp sneakers if you want to dance the night away.
Elopements
Can't decide where to draw the line when it comes to inviting guests? Struggling to make your budget work for your lengthy guestlist? Found the perfect intimate venue space? An elopement-style wedding is the perfect way to throw a smaller celebration. A great way to stretch a small budget, and ensure everyone in attendance is truly close to your heart!
Conscious Ceremonies
If the environment is close to your heart, your wedding should reflect that too! Sustainable packaging, organic and plant-based foods, low-output electrical systems, and responsible catering choices can all be utilised to design a wedding with minimal waste and a low environmental impact
Wedding Wall
Think of it as a customised backdrop to match your wedding's theme or styling! A wedding wall looks fab on Insta, and is a simple way to carry your theme beyond table centrepieces.
Interactive Food Stations
Keeping guests fed is an essential consideration of any event, and an interactive food station is an exciting and unique addition to your wedding plan! Guests can watch as chefs prepare dishes at different stations, making for a theatrical wedding dining experience
Make Your Own Cocktails
Equally as important as food is drinks! Let your guests celebrate your wedding with cocktail stations, at which they can select from boutique spirits and decadent garnishes to create their dream cocktail.
Balloon Installations
While florals are the classic, mix up your wedding backdrop with balloons of different sizes! From the traditional wedding arch to a unique photo backdrop for wedding guests, balloon installations are a fun and striking decorative option.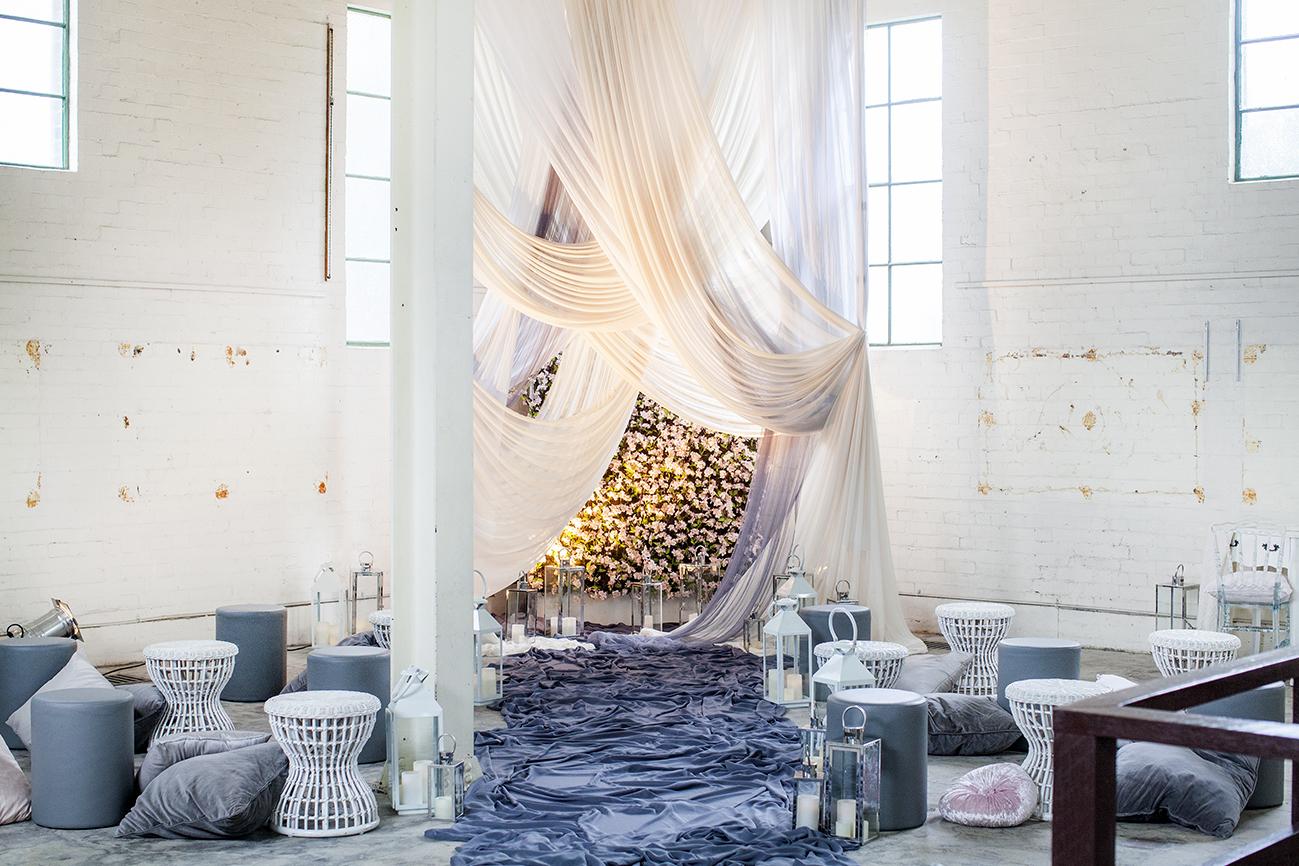 Pastel Colours
Pastel palettes are one of the top wedding trends for 2019! Soft pinks, peaches, and purples are especially popular, and suit rustic, traditional, and romantic wedding themes particularly well.
Shared Plates
For a more casual and convivial dining option, consider offering up share plates for guests to decide how they dine. Rustic share plates piled with a variety of premium options make for a relaxed communal dining experience that suits everyone.
Pets & Animals
Your wedding should be about celebrating everything you love, including the animals in your life! Walk down the aisle with (grooms)man's best friend by your side, and don't forget the family portrait!
Games & Activities
Keep guests entertained post-ceremony with giant games like Jenga, chess and puzzles! Giant games are a fun and quirky addition to your wedding entertainment, and are particularly well suited to reception venues with expansive outdoor spaces.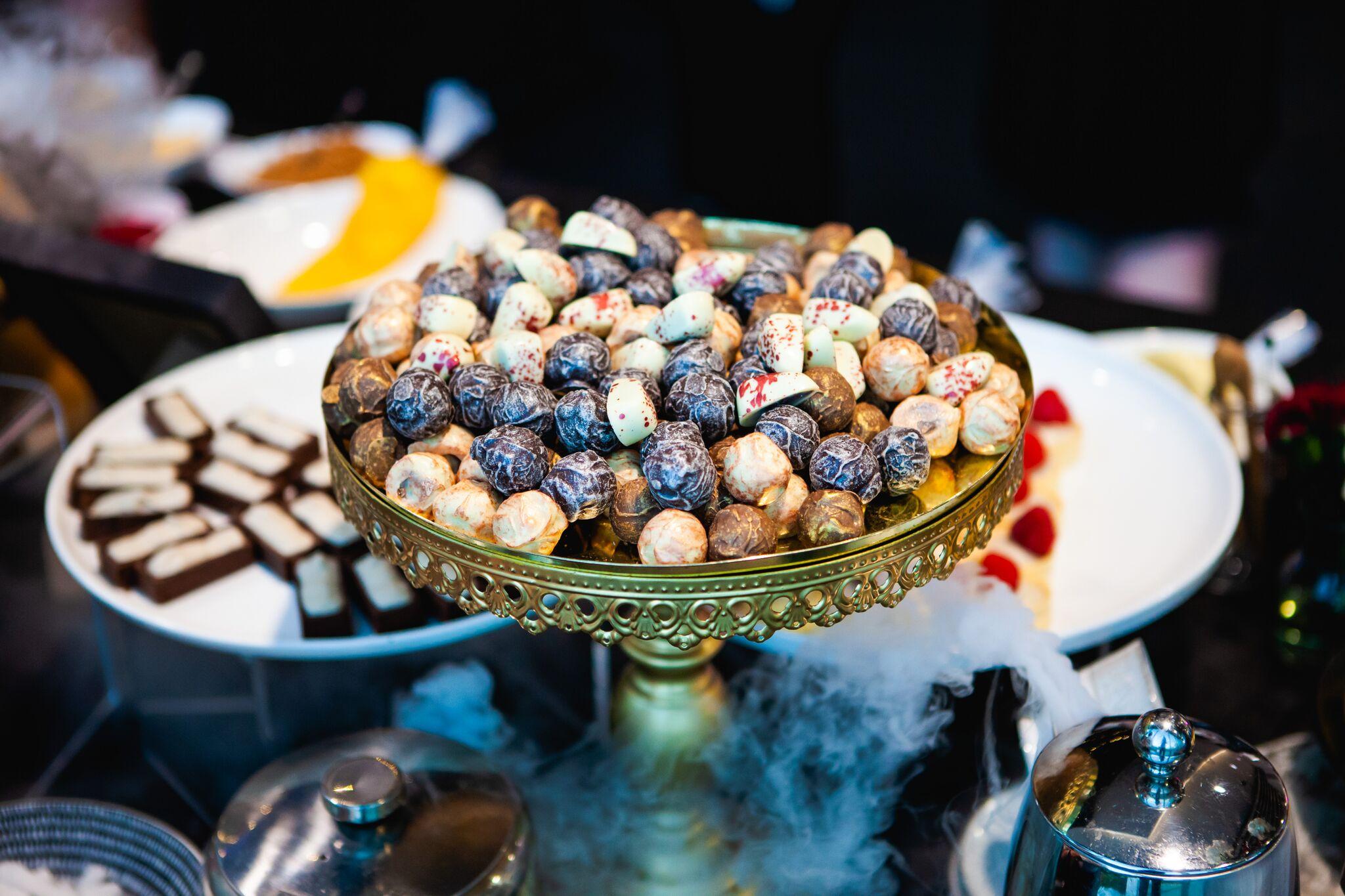 Progressive Stages
Another popular dining trend for weddings is progressive dining stations; offer guests canapés at one location, more substantial options at another, and desserts at their own dedicated station! Freedom from table settings makes dining easy and casual, and ensures every wedding guest gets exactly what they want.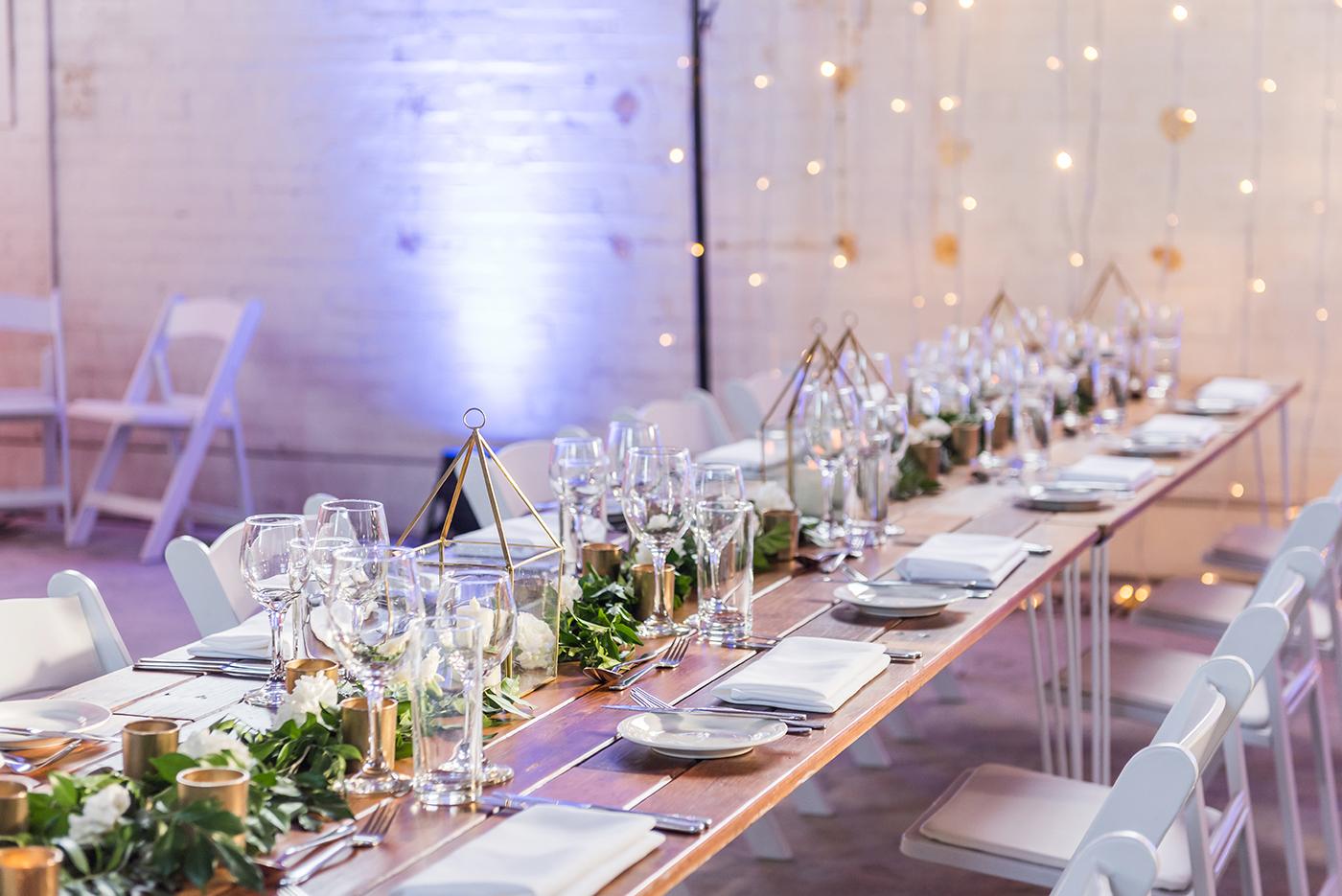 Long table dinner
Stand-up receptions aren't for everyone, and a long table dinner is a super chic way to celebrate your nuptials.
With a long table set up, you'll sit amongst your guests, rather than being apart at a traditional 'bridal table'. A very popular choice for modern weddings, long, rectangular tables are a great way to create an intimate, relaxed vibe. They're also visually stunning.
Add drama to your day with extravagant overhead floral installations, and twinkling candles running the length of your tables. You'll thank us when you see the photos.
Art-Deco
From champagne towers to velvet chaise lounges, gilded flatware, graphic signage and beautifully beaded gowns – we adore an art deco-themed wedding!
Watch The Great Gatsby and trawl Pinterest for endless inspiration, then head to Etsy to buy a vintage typewriter (for the guest book), peacock feathers and plenty of deco props for some photo booth fun.
All that's left to do now is find a swinging jazz band.
Surprise Wedding
Not into all the bridal fuss? Gather your nearest and dearest under the guise of a birthday, engagement party or a 'just because' get together, then shock the pants off them with a surprise wedding.
Go all out with an ultra-glam, traditional affair, or keep it casual and low-fuss with canapés, cocktails and chilled out tunes. Whatever you do, your guests will love the element of surprise, and having a great story to tell on Monday.
Start Planning Your Wedding
If you'd like help planning your wedding, contact the team at Cuisine on Cue!