On Wednesday 27th November, Room Three Sixty in partnership with exclusive caterers, Cuisine on Cue, hosted the annual 'Summer Soirée'. 
This year's event was a huge success, and guests were treated to an evening of beautiful catering, excellent entertainment, and the view, well it spoke for itself.  Room Three Sixty, located in Brisbane's QUT Garden's Point campus, boasts incredible and uninterrupted views of the Brisbane skyline – making it a highly sought-after venue for events of every kind.
Styling & Theming
Guests were welcomed into Room Three Sixty, styled by Brandition. The venue was the epitome of 'Summer in Palm Springs' and featured a mixture of high tables and bar stools, as well as velvet lounges and intimate seating areas – complete with life-sized Palm Springs lettering to set the scene. 
Click Click Photobooth's popular photo booth was well-visited by all in attendance, and guests had a blast selecting from a range of quirky signs and summer accessories, before jumping in front of the camera to strike a pose.
Later in the evening, guests enjoyed roving entertainment from The Rush Group.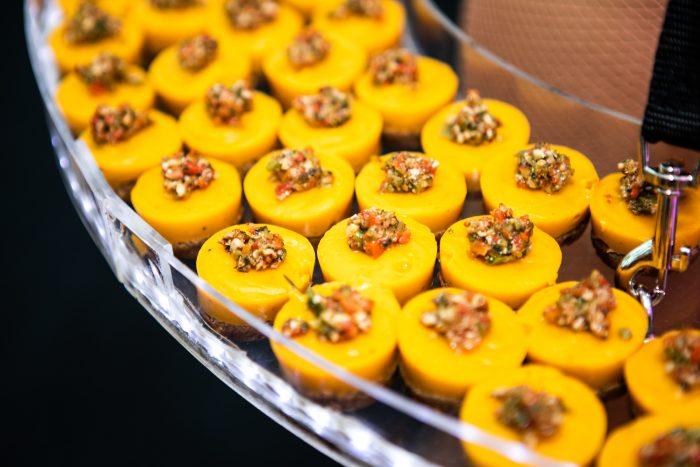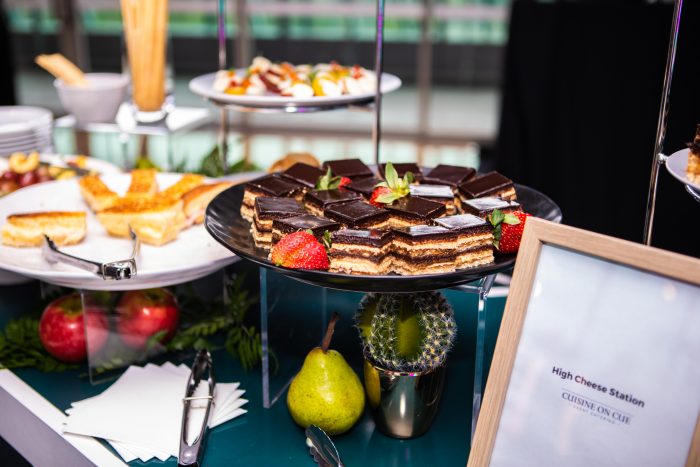 Catering & Food Stations
Food
Guests indulged in a variety of delicious canapés by Cuisine On Cue. From 5:30pm there was an interactive Oyster bar with four different dressings, a high cheese table featuring baked camembert with garlic rosemary & honey drizzle, espresso quark cheesecake, ricotta & walnut cannoli, and croque monsieur toasties, chicken salad open sandwiches with parmesan crisps and Burrata, heirloom tomato and cherry glaze. 
Those in attendance were also treated to a number of seasonal hot and cold canapés, such as ceviche of pearl meat with finger lime, coconut and lemon balm, curried chicken on plantain crisp with North Queensland mango chutney, Marinated pork belly on apple compote with crackle puffs, and central Queensland sourced confit lamb shoulder on sweet potato cake with grape chutney. 
Following the announcements and entertainment, Cuisine On Cue chefs conducted a live cooking demonstration of gin & beetroot cured salmon, grilled asparagus, pickled fennel and kohlrabi, orange jelly and crisp leek.
For dessert, guests were served house made melting moments, which were just divine. 
Beverages
The 2019 Summer Soiree played host to a wide variety of beverage options, with Cuisine on Cue serving 'The Palms Coupe' cocktail, watermelon & vodka punch, as well as our thirst-quenching (and non-alcoholic) passionfruit, pineapple and ginger beer punch.
Enquire Now
If you would like to impress your guests and host your own event at Room Three Sixty, please contact us and a member of our team will be in touch.