Founded in 2016, the annual Long Table Dinner at Shorncliffe Pier is an enchanting evening of fine dining held under the stars.
This premier event showcases the spectacular talent of the Cuisine on Cue team.
The Long Table Dinner Shorncliffe Pier
As one of Australia's longest timber piers, the Shorncliffe Pier stretches out from the foreshore for over 300 metres and has long been enjoyed by locals and Brisbanites alike.
On Saturday March 23rd, 720 diners were seated at the 250-metre long dining table which stretched down the length of the Shorncliffe Pier. With stunning views overlooking the Moreton Bay and Shorncliffe foreshore, guests of the Long Table Dinner were privy to a unique and unforgettable dining experience.
Styling & Theming
One of the highlights of this unique event is the long table-style dining setup, which allows each guest to enjoy a stunning waterfront view.
For 2019's long table event, the styling was elegant and simple, with crisp white tablecloths and white chairs. Enchanting festoon-style lights glittered above the long table, which was elegantly set by Cuisine on Cue's talented team.
Entrees & Entertainment
On arrival, guests were treated to a stunning sunset over the beautiful Moreton Bay and welcome entrées with arrival drinks.
Roaming wait staff offered guests a selection of hand-crafted canapés including truffle arancini. Guests also enjoyed gourmet grazing platters laden with house-made dips, bread, and meats.
The Main Course
After enjoying the live entertainment and grazing on the shore, guests made their way onto the pier for the entree. Spread along the long table were serves of local prawns served with lemon and marie rose sauce and Tasmanian salmon. Feasting mains were then served including braised burgundy beef with bacon and mushrooms, and roasted chicken drenched with lemon, thyme, and white wine sauce.
For sides, guests enjoyed garlic and lemon roasted chat potatoes, rocket, roast pumpkin, and pine nut salad, and couscous salad.
Following the mains, guests were served dessert platters with a selection of cheeses, quince paste, crackers and muscatels, as well as petite sweets.
With exquisite food provided by Cuisine on Cue and the magnificent waters of Moreton Bay as the backdrop, this spectacular evening was thoroughly enjoyed by all who attended.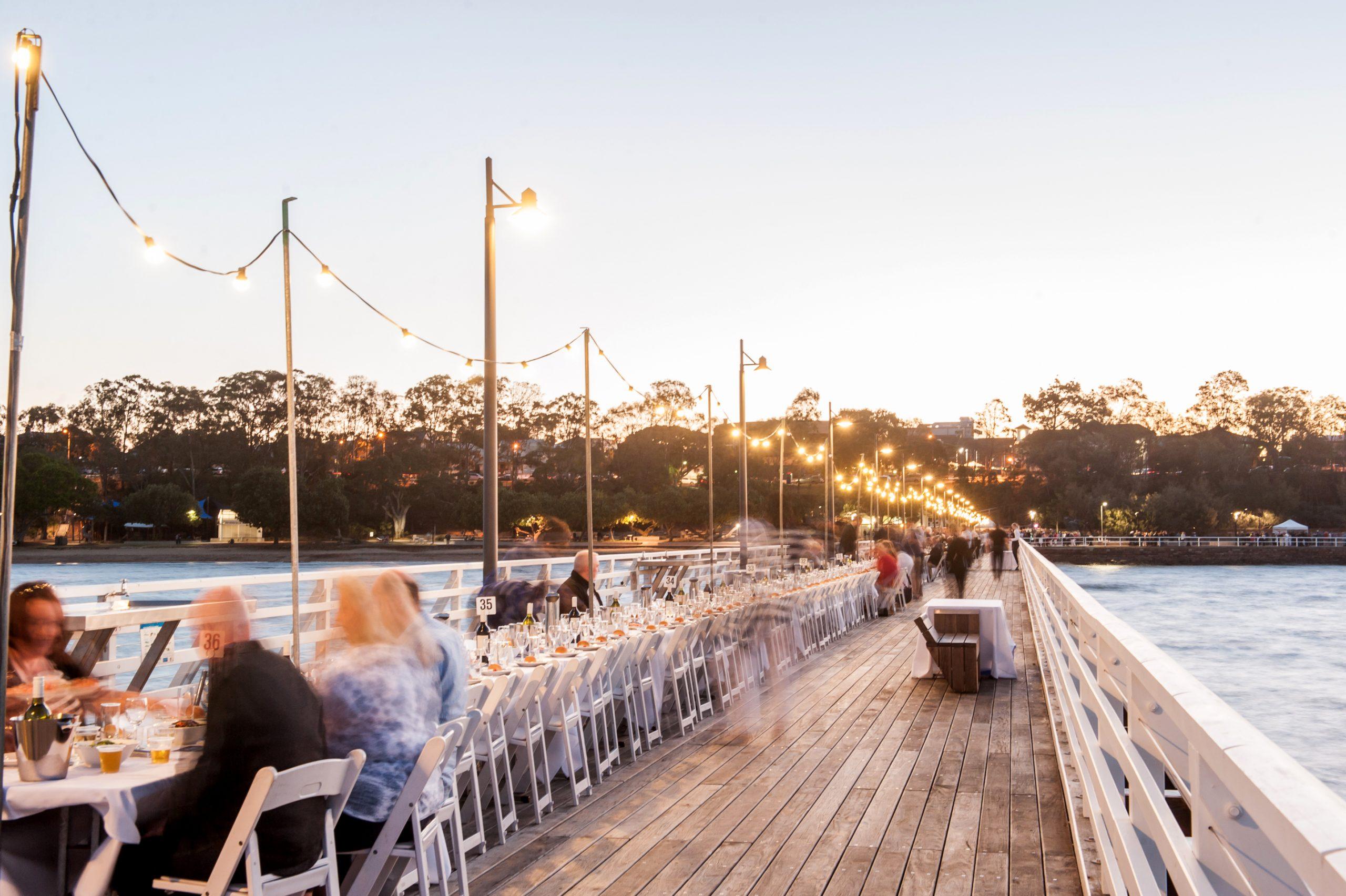 Host Your Own Long Table Dinner
A showcase of the Cuisine on Cue team's dedication to creativity and adaptability, the Shorncliffe Pier Long Table event is a highly anticipated evening of fine dining and entertainment.
If you have a themed function in the works, contact Cuisine on Cue for an event that exceeds expectations.
Enquire Now
If you would like to impress your guests and host your own special event, please contact us and a member of our team will be in touch.