Imagine watching a spectacular sunset amidst a field of 400,000 blooming sunflowers. Then, being treated to a three-course dinner prepared by our talented chefs and served in a secret garden under a canopy of stars.
For two hundred guests, this will be their reality next Saturday 9 April at the 2022 Sunflower Dinner. The Sunflower Dinner is part of the Kalbar Sunshine and Sunflower Festival, taking place from 8 – 10 April in Kalbar, just over an hour from Brisbane.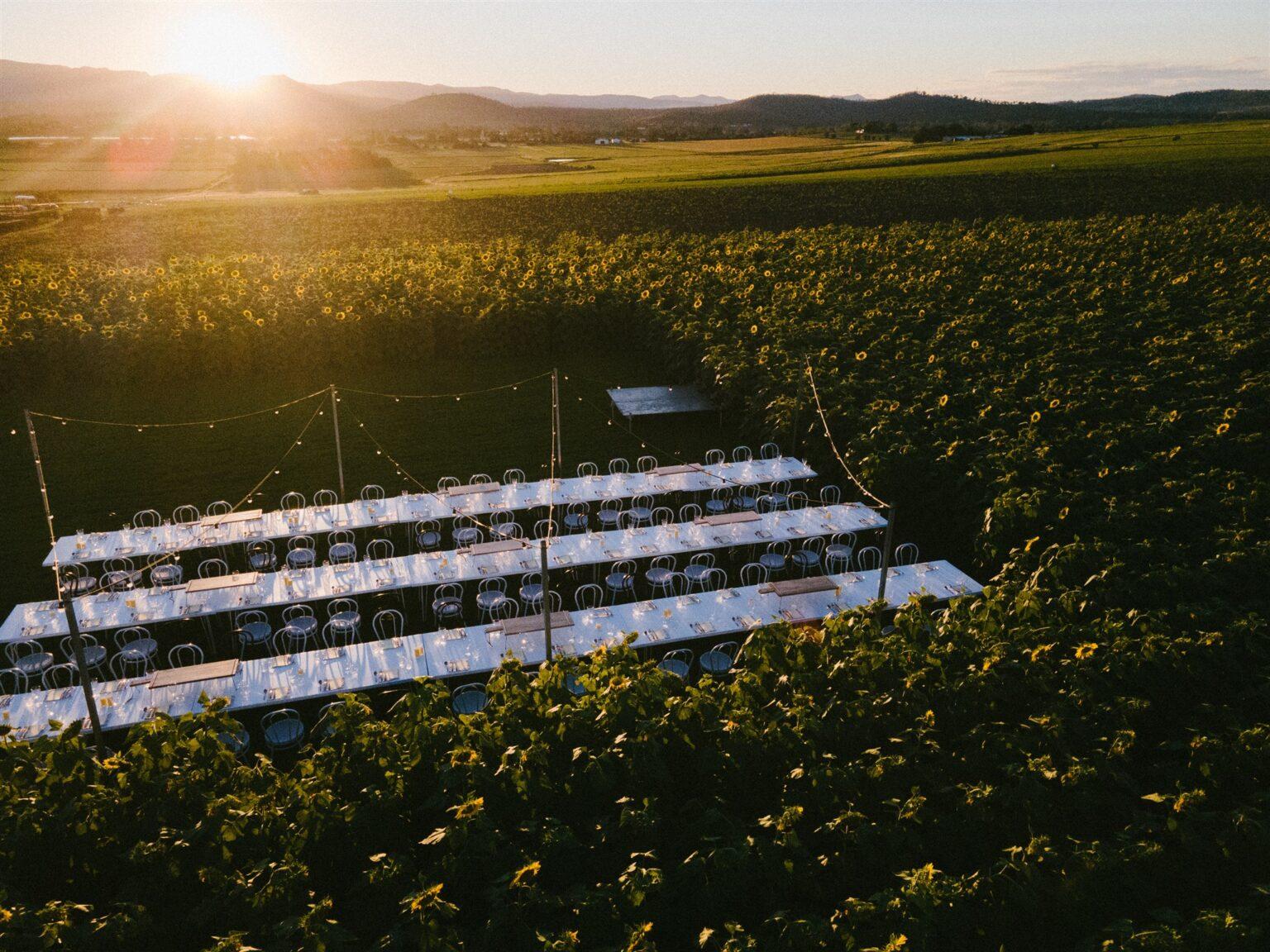 The team at Cuisine on Cue is delighted to be the catering partner for this year's Sunflower Dinner. Our chefs are sourcing the finest local seasonal produce to craft the dishes for a memorable meal. 
We've been working closely with the Sunflower Festival operations team to ensure that guests leave having enjoyed a truly magical meal and a celebration to remember.
Our team has gained a reputation for delivering premier catering in the Kalbar region as the catering partner for White Chapel and we're well versed in delivering catering for events with complex logistics, so we were the natural choice for the Sunflower Dinner.
Guest will enjoy a welcome drink and standing canape entrée as the sun sets over the tranquil sunflower fields, before making their way to the secret garden for a seated meal. Live music by local country musician Laura Frank will fill the air and entertain the crowd throughout the evening.
Although this year's Sunflower Dinner is already sold out you can visit the Sunflower Festival between 8-10 April to enjoy the floral spectacle. Take a trip to Kalbar and capture a sought-after selfie amidst the sunflowers, picnic in the farm's sunny surrounds, meander through the eight-acre sunflower maze, take part in a painting session or enjoy yoga in the sunflower field. There will be live entertainment, market stalls, and free kids' activities.