Another year has flown by and just like that your child is one year older and it's time to organise another birthday party.
Location, theming, non-conflicting dates, catering and impressive decorations; with the endless list of tasks to complete in preparation for your child's big day, you could hire an entire party planning team, or you could let us help you out with these five kid's party catering ideas that everyone will love, including the parents.
Kids Party Catering Idea 1: Canapés
Maintain your sanity the next time you're planning your kid's birthday party by enlisting Cuisine on Cue to provide a canapé feast. Because, bite-sized humans deserve to eat copious amounts of delicious bite-sized morsels on their birthday.
With a canapé menu featuring parmesan shortbread, bocconcini, cherry tomato and macadamia pesto, lamb sausage rolls with caramelised onion and Dijon whip, and chocolate and pistachio ganache cups with Oreo crumb base and gold leaf tulle; this kid's birthday party catering idea is sure to be a hit with the junior guest of honour and their adult plus ones.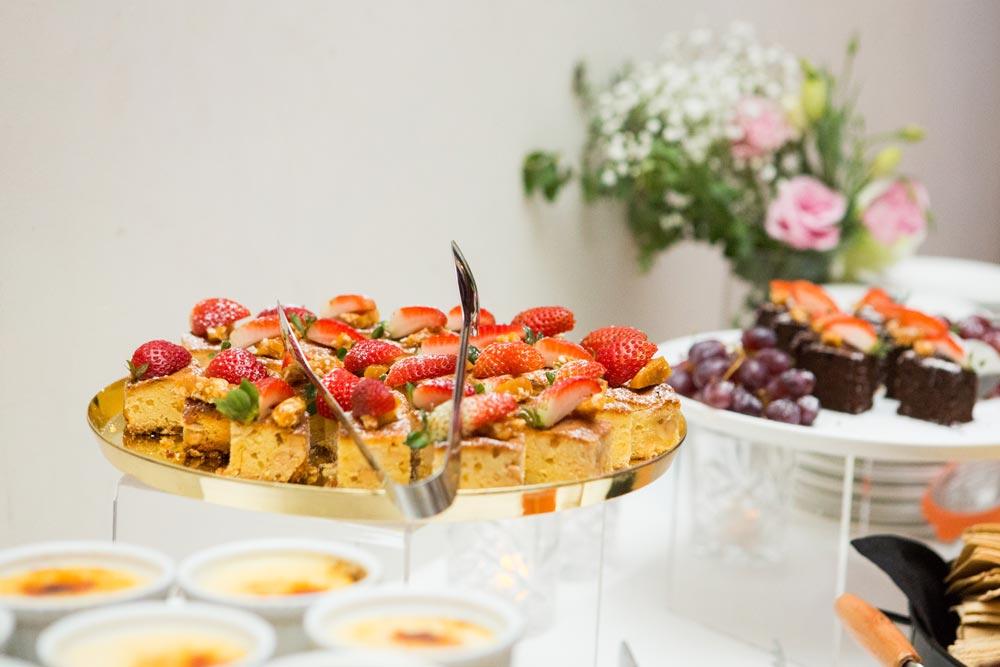 Kids Party Catering Idea 2: Desserts
Nothing makes a child's smile wider than the possibility of dessert. So, do everyone a favour and organise a Cuisine on Cue tantalising sweet platter featuring make your own macarons, pancake mil-feiulle with Chantilly and sliced strawberries, and cheesecake on shortbread croute with floss and toasted almond meal to ensure the birthday kid can have their cake and eat it too.
You'll be the coolest parents in town when desserts are rocking the tables of your child's annual celebration.
Kids Party Catering Idea 3: Cheese Boards
Flourish in a welcomed bout of cheesy parental behaviour where your kid isn't embarrassed, but rather impressed with your choice of party food flavours. We're talking about a high cheese set up, where all the cheeses are guaranteed to be kid, and adult, pleasers.
Think; baked camembert with garlic rosemary and honey drizzle served with crisp breads, croque monsieur toasties, and ricotta and walnut cannoli served on high tea stands individually to the table or as the centrepiece of your kid's party.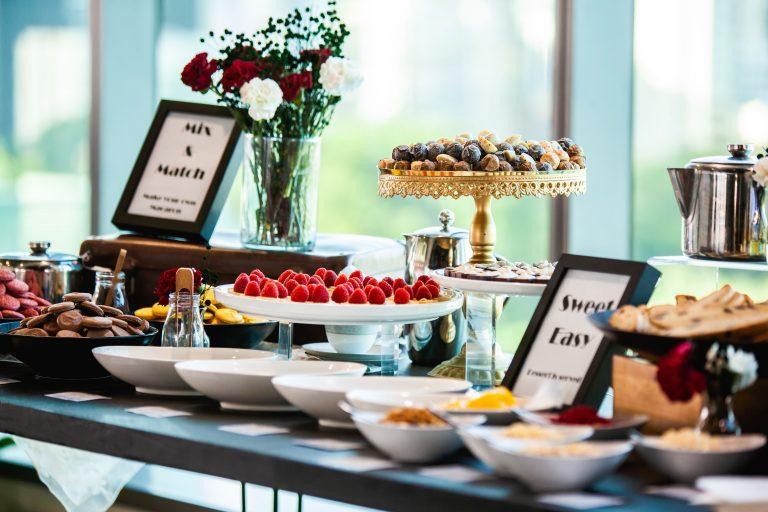 Kids Party Catering Idea 4: Food Stations
We don't care if it's their party, we doubt that there'll be any crying when there's a variety of enticing food stations on offer.
Whether the birthday child wants a yakitori situation, Spanish tapas, dumpling bar, oriental wok cuisine, or a grazing platter featuring a selection of Australian cheeses, meats and dips, we can confirm that kid's birthday party catering ideas in Brisbane achieve a whole new level of cool when food stations play a leading role.
Kids Party Catering Idea 5: Barbecue
Birthdays only roll around once every year, so let the birthday kid and their crew get down and enjoy the big day with a gourmet barbecue package. Select from main options of steak, garlic and herb marinated chicken, barbecued salmon, or Holland Park cultured haloumi, and back them up with sides like cumin and caraway scented roasted root vegetables, and broccoli, almond and pomegranate salad.
This is one kid's birthday party catering idea bound to keep hunger at bay for every guest, no matter their age.
Start Planning Your Kid's Party!
Are you planning a kid's party catering in Brisbane? Contact the team at Cuisine of Cue for a completely tailored approach that's guaranteed to impress.