Nestled within the tranquil rainforest of D'Aguilar National Park and overlooking the beautiful Enoggera Reservoir hides one of Brisbane's most stunning wedding venues. Featuring native wildlife, lush greenery, and tranquil sounds of the forest, Walkabout creek boasts endless opportunities for spectacular wedding ceremonies and receptions.
With the help of our staff Matt and Claudia as our models, we've teamed up with an amazing range of wedding vendors including Beautiful Weddings, Millyjane Photography, When Freddie Met Lilly and Bella Brides for a collaborative photoshoot to showcase the many styling and theming opportunities available at our favourite rainforest wedding venue.
Brisbane's Rainforest Wedding Venue
 As one of Brisbane's unique rainforest wedding venues, Walkabout Creek has two picturesque ceremony stages. The Lakeview Ceremony stage provides stunning views over the reservoir, while the Rainforest Ceremony stage delivers a striking rainforest backdrop for those memorable moments.
Walkabout creek also offers two enchanting reception rooms. The Banksia room is appointed with its own private timber deck with sweeping views of the lush rainforest and Enoggera reservoir. If you find yourself in the Ferntree reception room, you'll be transported to a treetop paradise with 180 degree views of the calm rainforest, reservoir and tropical bird aviary.
Wedding Dress & Accessories
When Freddie Met Lilly are renowned for having some of the most incredible wedding gowns and accessories. Using the finest quality silk, lace, chiffon and tulle, all embellishments and gowns are carefully crafted by hand. The stunning 'Bogart' gown shown on our gorgeous Claudia is no exception. This show stopping slim line gown features a beautiful hand embellishment along the 'V' neckline alongside a subtle mesh neckline. A striking fitted lace skirt comes with a lavish train. finished with an amazing embellished hair piece.ella Brides understands that all brides want to look the best version of themselves on one of the most important days of their lives. With all eyes on you and hundreds of photos throughout the day, most brides opt for soft, romantic makeup to really highlight their features.
Hair & Makeup
Bella Brides understands that all brides want to look the best version of themselves on one of the most important days of their lives. With all eyes on you and hundreds of photos throughout the day, most brides opt for soft, romantic makeup to really highlight their features.
Bella Brides pride themselves in using high end makeup, sure to last through the tears, laughter and dancing as well as using the best makeup suited to photography and film.
For this photoshoot, Bella Brides used a water based foundation and a soft highlight to create that wedding glow. Claudia's hair was upstyled with soft, beautiful waves to create a subtle texture for a romantic look.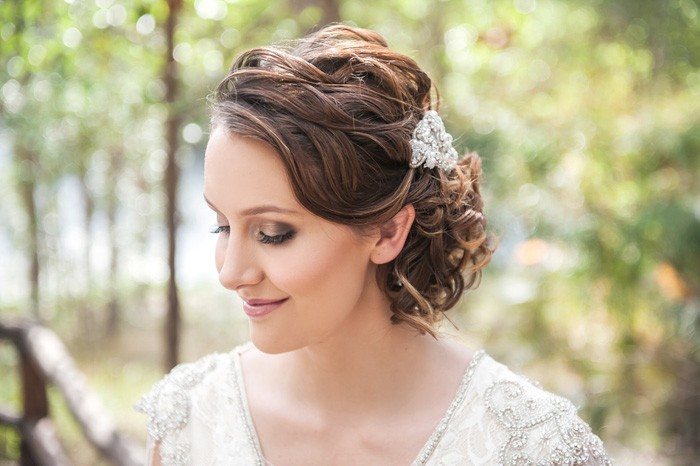 Flowers
This unstructured, garden style, boho bouquet was constructed by Northside Flower Market to complement Walkabout creek's beautiful surrounds. The stunning hand held bouquet features a variety of roses, delphinium, tetra nuts, gum, ivy berry and mixed foliage.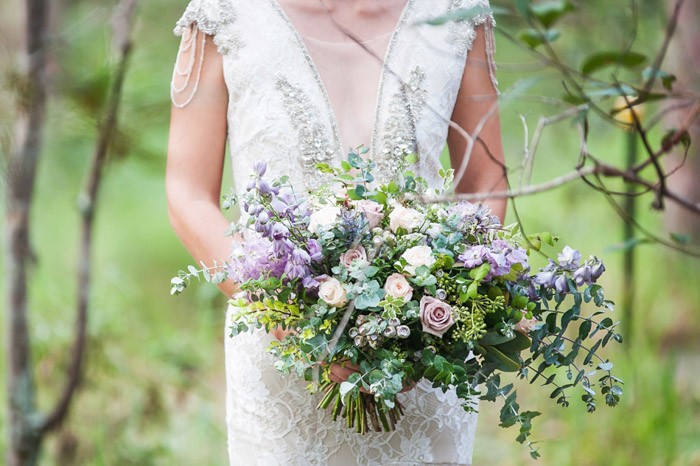 Wedding Ceremony & Reception Styling
Lakeview Ceremony
Glamorous and rustic themes have been popular for brides this season, making Walkabout Creek the perfect location for Beautiful Weddings to showcase the latest trends in wedding styling and theming.
Featuring stunning views across Enoggera Reserve, the aim for the Lakeview Ceremony site was to add a touch of romance without detracting from the beautiful natural surrounds of the rainforest.
Soft white chiffon was added to the arbour with a long white carpet entrance for the bride. Sweet floral cushions were added to the seating area and a blackboard sign invited guests to choose a seat, not a side.
Rainforest Ceremony
A romantic and enchanting canopy was created with chiffon draping to complement this rustic wedding reception space. The area was decorated with greenery and geometric, copper candleholders. A copper chandelier featuring candles and decorative stones was placed overhead the Bride and Groom.
Banskia Room
Tall gold candelabras graced the guest tables with matching gold votive candle holders. The long bridal table featured tall gold votive candle holders supported by greenery. Behind the bridal table, a long fairy light backdrop completed the glamorous styling of this reception space.
Ferntree Room
Being surrounded by greenery and a gorgeous timber verandah, The Ferntree Room lends itself to a rustic wedding style. The multi award winning stylists from from Beautiful Weddings incorporated a colour palate of timber, copper and lush greenery. Timber chairs and timber slabs are teamed with copper geometrics and votives, while decorative florals were placed on the Mr Right & Mrs Always Right signs for the bridal couple. A green wall was positioned as a backdrop for the bridal table to complete the theme for this rustic wedding reception space.
Photography
With its lush forest canopy and stunning open lake, Walkabout Creek's surroundings provide a plethora of opportunities for both contemporary and classical wedding photography. We worked with MillyJane photography to create a range of contemporary and classic styles.
We understand that your special day requires personalised attention on every front, so we are dedicated to going above and beyond on your wedding day. As a Brisbane-based, full-service catering company, our professional wedding planners organise everything from photographers, flowers, styling and every other detail to make your day truly memorable.
Start planning your dream wedding, click here